Number of Stamps
10 Stamps
Card Configuration
5 Stamps = Free Coffee
7 Stamps = Free Pair of Grip Socks
10 Stamps = 1 Consecutive Hour Free
Extras
Welcome Reward = Free Coffee
Birthday Reward = 1 Free Hour Jump
Industry
Activities, Sports, Kids & Family, Things to Do
Business
Indoor trampoline center in downtown Nelson. Family-oriented indoor activity center with strong local community presence. Caters for families, school activities and parties.
About
Jumpin Nelson Trampoline Park is designed for jumpers of all ages. We are a family owned business that strives to provide the ideal service and destination for families and friends.
Our trampoline park has a main arena, kids arena, foam pit, tumble track, climbing wall, parkour area and wall trampolines. We cater for birthday parties and have a lounge area for parents to relax while children burn energy.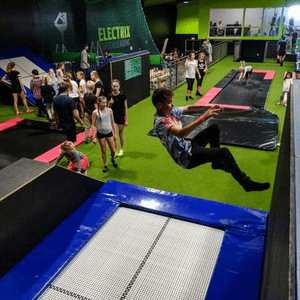 Location
14 Pascoe Street, Nelson, New Zealand
Program Goals
Flip Out Nelson was looking for a loyalty system that could enhance the customer experience with fun rewards and incentives. The ability to provide a Free Coffee upon joining as well as mid-way through the card progression keeps customers interested. The Flex Rewards app also allowed Flip Out to convey their brand and values with plenty of room for images and text. Flip Out also has a lot of social media followers, and so they were attracted to a system that could also capture their audience online.
Flip Out prints Table Displays in A4 paper using an office printer and displays QR codes on tables and at the counters. Staff find it intuitive and easy to use.