Number of Stamps
5 Stamps
Card Configuration
5 Stamps = Massage Enhancement
Reward
Purchase 5 Massage Enhancements and Receive a Massage Enhancement of your choice FREE! (up to a $10 value)
Choices include:
CBD Salve Sample & Application
Oxygen Healing Gel Application
Targeted Hot Stone Treatment*
Targeted Cupping Treatment*
Exfoliating Hand or Foot Scrub
Essential Oil / Aromatherapy
Industry
Massage, Spa, Health & Wellness, Beauty Products
Business
Professional massage therapists
About
Body by Design is made up of Licensed Massage Therapists who are committed to the health and well-being of every client. Are you tired of living with pain? Body By Design offers a variety of services that eliminate pain and ease tension in a stress-free environment. We look forward to seeing you!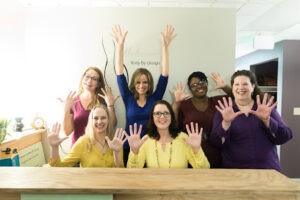 Location
6000 Babcock Blvd, Pittsburgh, PA 15237, USA
Website
Bookings
https://bodybydesignpgh.com/appointmentscheduling/